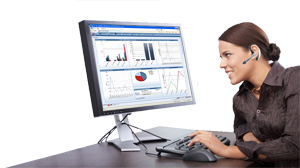 Earning profit is perhaps the most important part of any business as organizations cannot survive without making a proper profit from their services. All the efforts and strategies are ultimately aimed at generating maximum profits for the business. Call centers have become a critical part of today's business environment. Almost every industry outsources some of their business work to call center service providers as it offers them great advantages.
Call centers are also organizations who work to generate profits from their activities. Mentioned below are three points that could help call centers in maximizing their profits.
1: Make the Agent Desktop Simple: We have seen that most of the call centers make their agent's desktop complex and complicated. They think that it would enhance the performance of their agents. However, the truth is that it usually confuses agents and has a negative effect on their performance. It is suggested that you simplify the desktops of your agents and arrange it in such a way that they can easily work on it. The desktop should be simple and based on dynamic upgraded technology that could actually make their task easier. Further, there should be no decoration on their desktops at it would only distract agents from their work.
2. Dynamic Scripting: More and more call centers are moving on to dynamic scripting to guide their agents through calls. This ensures that they are able to deliver a positive and consistent customer experience. This can be done by providing an actual verbal script to them or by providing them the next steps for the call that they are handling.
3. Automate Tasks that are Routine: There are many tasks in a call center that are routine. These tasks could be easily automated as the technology is already there. Automation of these tasks would reduce some of the unnecessary workload of agents. They could divert their extra time and energy on the more important tasks that could actually help in enhancing the profits of your call center.
We suggest that you start working upon the above points and then move forward to the more complex options for increasing the profits from your call center services. Whether you are offering data capturing services or call center outsourcing services, these tips would be helpful for all. Further, we would like you to share some of your own ideas that could aid call centers in enhancing their profits.