This blog post is about one of our clients who used our Form Processing Service to get record profit.
One of our clients, an apparel store, participated in a trade exhibition. They had put up a stall where they had displayed their clothing line, and they had also offered tailor-made dresses to customers with 20% discount if the customer registered during the exhibition.
The stall received great footfalls and thousands of people filled their Order-Request Forms to get tailor-made clothes. But when our clients returned from the exhibition, they found that there were more than 5 cartons filled with Registration Forms. Now each Form was a potential customer, so these 5 cartons were actually full of orders. But the problem was to obtain these orders from this heap of papers.
This is when the clients, who had earlier outsourced their catalog processing services also to us, called us for help in Form Processing.
Owing to our proven proficiency in this field, within a matter of days, all the Forms were made available to the company. The Data was entered in an Excel work sheet with answers of the form entered in different columns each.  So now you could access entire contact details, order details of any person who had filled those forms. Also we sorted the data on the basis of Area of residence of customer, the gender of the customer, the kind of raw material to be stitched (denims, satin etc), the category of the order (above $100 or above $500) etc.
This segregated data could now be easily be used by the Sales team to first confirm the orders and then convey them to Manufacturing Department. The Product Distribution department then ensured the timely delivery of clothes.
From these 5 cartons, the company could successfully extract profit which was equivalent to their half-yearly target!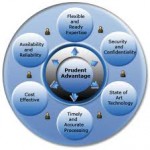 Now imagine the situation, if they would have not availed the Form Processing Services. Then in spite of a successful outreach through the exhibition, the company would have not been able to capitalize the positive public response it received.  Either those 5 cartons would just lie and the Forms would be junked, or the staff from different teams would have to be diverted to get entire data entry done! And in both these cases, there would be more loss than gain. So indeed our client chose the wisest option and outsource back-office solution of Form Processing. As a result of efficient processing of data into simple usable format, they could get record profits. Hopefully this small case study will convey the importance of Data Processing to every business. Every piece of Data is indeed a potential profit source!